Lessons from industry experts.
Skills for your whole practice.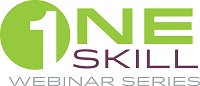 OneSkill webinars are a 20 minute webinar hosted by the Dental Cooperative and designed to provide a quick skill you can implement for success in your dental practice. Industry experts are chosen to dive narrow and deep on one issue designed for practice success.
See the upcoming webinars below:
For: Dental Assistants
Dental Assistants! Need Assistance?
When: Friday, Feb. 9, 2019 at 12:00pm – 12:30pm MST
Speaker: Brittany Gray, Kay Hinkley – Zirc Company
Details: Gain more time in your day by learning how to turn your practice into a smooth running, efficient machine! You will learn how to easily manage your instrumentation and materials using a simple Color-Code System to achieve a harmonious environment for you, your team and patients. Walk away with tips on how to start the organization conversation in your practice with your very own hero kit.
ALL WEBINAR ATTENDEES WILL BE SENT A ZIRC CRYSTAL HD MIRROR!

Brittany Gray, CDA
Product Specialist
Zirc Company

Kay Hinkley, LDA
Product Specialist
Zirc Company